Old Point Farm

Saturna Island, British Columbia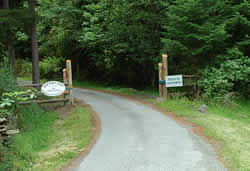 Saturna Island is in the Southern Gulf Islands of British Columbia which lie between the lower mainland of British Columbia (Vancouver area and the Fraser Valley) and Vancouver Island. BC Ferries provide several convenient daily services from Vancouver Island and the lower mainland to Saturna Island and there is a regular scheduled floatplane service from Vancouver Airport, twenty minutes away by air. Saturna Island has a moderate climate and approximately half of the Island's stunning landscape of bays, valleys and high rock bluffs is protected within the recently created Gulf Islands National Park Reserve.
Old Point Farm, a unique and very spectacular 28 site, 268-acre 20-year-old residential development, at the westernmost end of Saturna Island. The property except for narrow strip of land joining it to the main part of the island, it is entirely surrounded by water. The opportunity to own a home or building site on Old Point Farm is a rare occurrence and once acquired provides a degree of privacy, security, and certainty (with respect to both adjacent sites and adjacent properties) that is increasingly difficult to achieve elsewhere.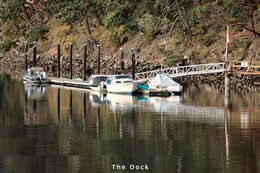 To Pacific North West boaters familiar with these popular waters, Old Point Farm's approximately three kilometers (two miles) of high bluff and low bank shoreline overlook Plumper Sound and Navy Channel; Mayne and North and South Pender Islands; as well as the entrance to Lyall Harbour and Boot Cove on Saturna Island. Old Point Farm is close to the ferry terminal, general store, pub, newly constructed Island Recreational and Cultural Center, artists' galleries, and award winning vineyard. Yet Old Point Farm is entirely private and separate from all its neighbors with but a single access, from the public road system, to the property and its several kilometers of private roads. In addition to privacy, the terrain of Old Point Farm's 268 acres provides magnificent views and vistas from every site. And it includes high and low bank waterfront with Fir, Arbutus, and Gary Oak; a forested interior portion; several large open fields cleared in the early 1900's; and an extensive network of walking trails. I addition to the many land, shore, and sea birds on Saturna Island, there is - on Old Point Farm - a small resident deer population, bald eagle nests, as well as otters and, in nearby waters, seal and of course salmon.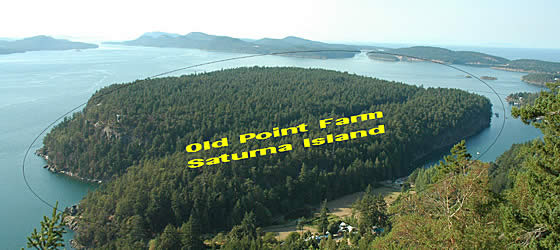 Each of the 28 sites is surveyed, 1 to 1.5 acres in size, accessed by road, and serviced for water and electricity. (High-speed internet service is available on the Island.) The ownership of a site comes with an undivided 1/28 ownership interest in the approximately 225 acres of common land, as well as in all the common property of Old Point Farm. The common property includes approximately 3.5 kilometers of private chip sealed roads, many kilometers of trails; common water systems, a large common dock with approximately 300 feet of moorage, and cash reserves of approximately $200,000 to provide for future improvements to the property. No farming is actually conducted on Old Point Farm and forestry operations are minimal and limited to sustaining and improving the forest and natural environment.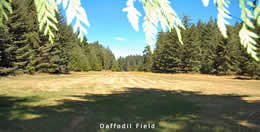 The ownership of Old Point Farm - its sites and common assets - is held in a single purpose Trust solely for the benefit of its owners. The owners elect the trustees. The operations of Old Point Farm - essentially road, dock, and land maintenance and improvements, water supply, and insurance - are fully managed by its owners. That is done through a Management Corporation separate from the Trust, and each site owner also owns a 1/28 interest and votes to appoint its Directors.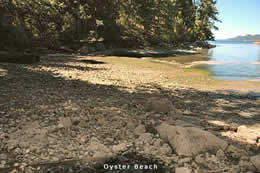 This form of land ownership and management - originally established by Old Point Farm's founders more than 20 years ago and recently improved - provides many of the advantages of freehold ownership, including site ownership, while retaining full control over access, privacy, and land use by the owners. Those are qualities increasingly sought after and much more difficult to establish and sustain under subdivision rules and individual site freehold ownership.
The present owners, many of whom have been involved with Old Point Farm since its inception in the early 1980's, are a diverse group, both active and retired, and include recreational and resident owners. Twenty-one (21) of the 28 sites have been built on. Under present Saturna Island zoning by-laws no additional sites can be created on Old Point Farm. Any increase in the number of sites or change in use of the common land also requires the unanimous consent of the owners.
Each owner pays 1/28 of the costs of operating Old Point Farm. At present that cost is assessed at $3,000 per year for 2014/2015. Site owners are of course required to pay for the improvements to and maintenance of their own sites, as well as for property taxes on their improvements and insurance related to those. Owners are also required to enter into a co-ownership agreement with other owners on matters of ownership, governance, land use, and operations of Old Point Farm. This ownership agreement was improved and updated in 2004 with the assistance of expert legal and tax counsel.
Properties Currently For Sale on Old Point Farm:
206 Old Point Road  (see Saturna Properties tab for more information)
For a map of the Island (See Old Point Farm on the far left)
www.saturnatourism.com/map.html
---